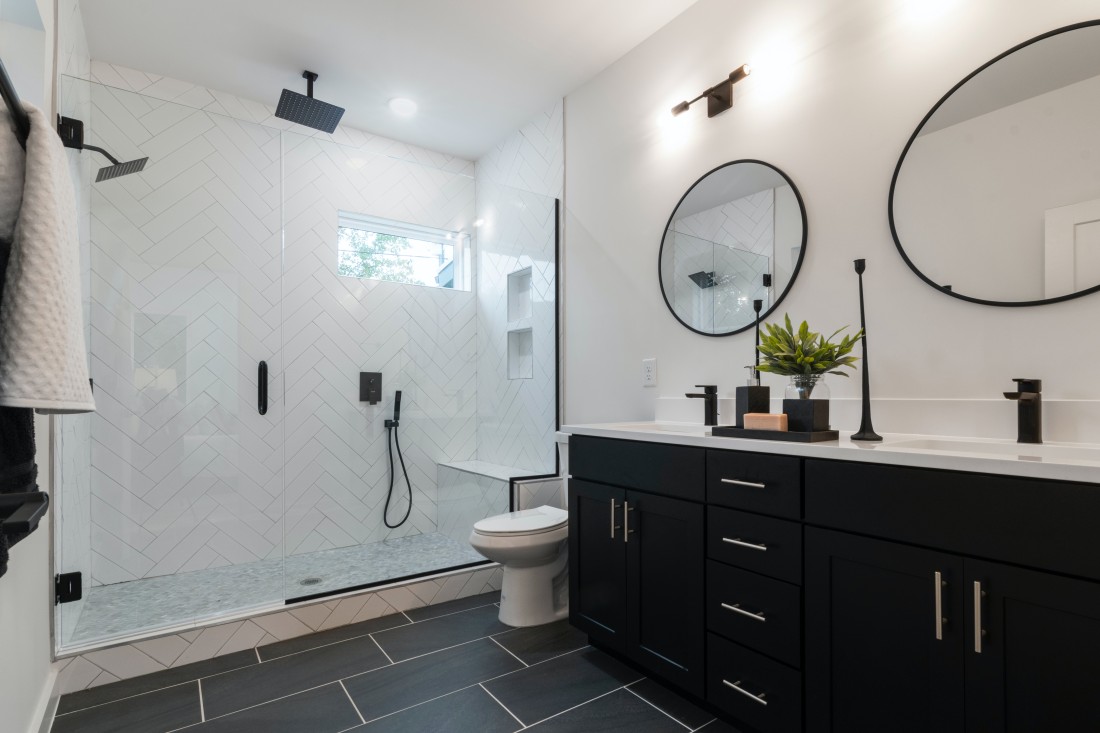 There's nothing like taking a shower to wake up and get energized in the morning—or wash off the day's worries after work! However, we don't often give much thought to our shower design. As a consequence, most homeowners tend to invest in a remodel only every 15-20 years!
While the cost of a full bathroom remodeling project can range between $6,600 and $16,387, a shower renovation is a quick and more affordable way to restyle your bathroom and give your home a functional facelift. Unsure about where to start? Check out these shower remodel ideas by KDI Kitchens, Inc. to inspire your next home renovation project.
1. Opt For A Stylish Walk-In Shower
Walk-in showers are the perfect solution for enhancing a small bathroom and making it look more spacious and airy. One of the main benefits of walk-in showers is that they can be fully customized to your bathroom's design and make the whole room more functional and accessible.
When designing a walk-in shower, focus on the flooring and surround (the area around the showerhead). You can create a walk-in shower surrounding glass or stone, creating a timeless design that will enhance your bathroom's look for years.
2. Combine Tub and Shower
Showers are functional, while tubs are the symbol of luxury and relaxation. If you can't decide which option will work best for your needs, consider combining the two! There are plenty of beautiful ways to design a combination tub and shower that blow default fixtures out of the water.
Undoubtedly, for some homeowners, there are some benefits of separate tubs and showers. However, combining the two might be an option if you have an existing tub in your small bathroom but you wish to enjoy the convenience of a shower without large investments.
3. Opt for a Luxury Showerhead
If you are looking for a quick upgrade for your bathroom that can enhance the entire shower experience, look no further than a new luxury showerhead. Whether you are after a brass concealed model or a vintage-looking exposed shower, new showerheads can give an extra touch to your current shower and create a spa-like atmosphere.
Some of the must-have features for your new showerhead include:
A rotating design
Stream aeration
Rain option
Hydromassage options
Multiple nozzles
A handheld alternative
While it's important to find a showerhead that can create the perfect spa atmosphere right within your shower cubicle, you should also be mindful of EPA standards and ensure that your showerhead doesn't exceed 2.5 gallons of water per minute.
4. Renovate the Tiling
If you are looking for shower ideas that can help you give your bathroom a new look without too large an investment, consider renovating the tilework. Many older homes still have perfectly functioning bathrooms and showers that might just be in need of a little makeover. If you love your current bathroom but you wish to freshen up its look, consider changing up the tilework and implementing a much more modern and minimalistic look.
5. Add Niches and Seating Features
Your shower is the place for relaxation and self-care—so, no shower inspiration compilation would be complete without mentioning niches and seating features! Integrated niches and shelves allow you to organize all of your beauty and self-care products (or even add luxury decorations and plants).
At the same time, seating features are a must-have if your shower has sauna-like features that just call for indulging every once in a while!
Get Professional Design and Installation Inspiration from KDI Kitchen and Bath
If you have a bathroom remodeling vision but aren't sure how to execute it, the expert team at KDI Kitchen and Bath is here to make those dreams come true. Whether you want a simple but powerful shower upgrade or want to take the plunge on a full renovation, we're here to help you create a beautiful, cohesive design. Give us a call today!