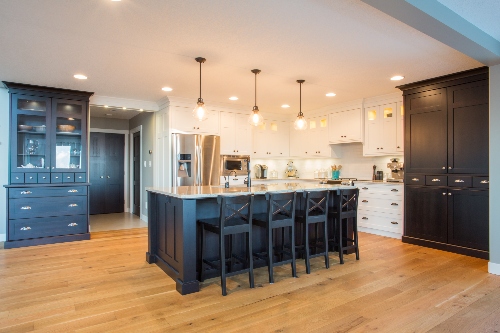 Many decisions go into planning your kitchen design. From the countertop and cabinets to flooring and backsplashes, there are many areas for you to consider. Many people forget to include lighting as an important part of their overall project plan and budget. Without the right lighting, your kitchen will feel less comfortable and be less functional.
In this article, we'll explore some of your lighting design options to brighten up your cooking area.
1. Look into the Crystal Ball
Crystal balls aren't just for wizards. Consider using globe lights hanging from the ceiling by a chain or any other style of cord that goes with your overall theme. For the best effect, hang your crystal ball lights above your kitchen island.
2. Black Metal, not Just Music
Black metal doesn't just have to be the type of music you blast. Black and white hanging pendant lights make for a good addition to most kitchens. Black or white go well with many different colors that fill out the rest of your kitchen.
3. Light Up the Corners
It isn't just about the kitchen island and the center of the room. Windows are great ways to open up and brighten up the sides and corners of your kitchen. At night or during the winter when it gets dark earlier, golden wall sconces offer other light sources as well as a bright color to open up your room.
4. Keep it Simple
You also don't have to be fancy for your lighting to be functional. Attention-grabbing light fixtures may draw eyes and even focus away from people in the room or the food cooking on the stove. Clear glass hanging lights over your kitchen island and sink create a simple but functional approach to keep your cooking space well-lit.
5. Minimalism, Midcentury Style
Let's tone it down even more while pointing toward a specific period's style. The midcentury-style focused on functionality by using easy curves and soft lines. Keep your lights narrow and long at the end of a pendant for the best effect.
6. Adult String Lights
String lights often get used for decorations or by the kids for dorm room lighting. Bring this fun lighting option into your kitchen by accenting a group of dangling bulbs with sparkles of string lights around the edges of your room.
Find the Right Lighting for Your Kitchen with the Design Experts
Each room of your home can help to express your personality while helping you feel comfortable and serving a purpose. The lighting you choose can turn an unwelcoming den into a warm space to share a meal and hang out. When you begin to put together your kitchen design or remodeling plan, make sure to go with the experts at KDI Kitchen and Bath. Our crew can help you decide on the right lighting for your project so you can get the most out of your new kitchen.