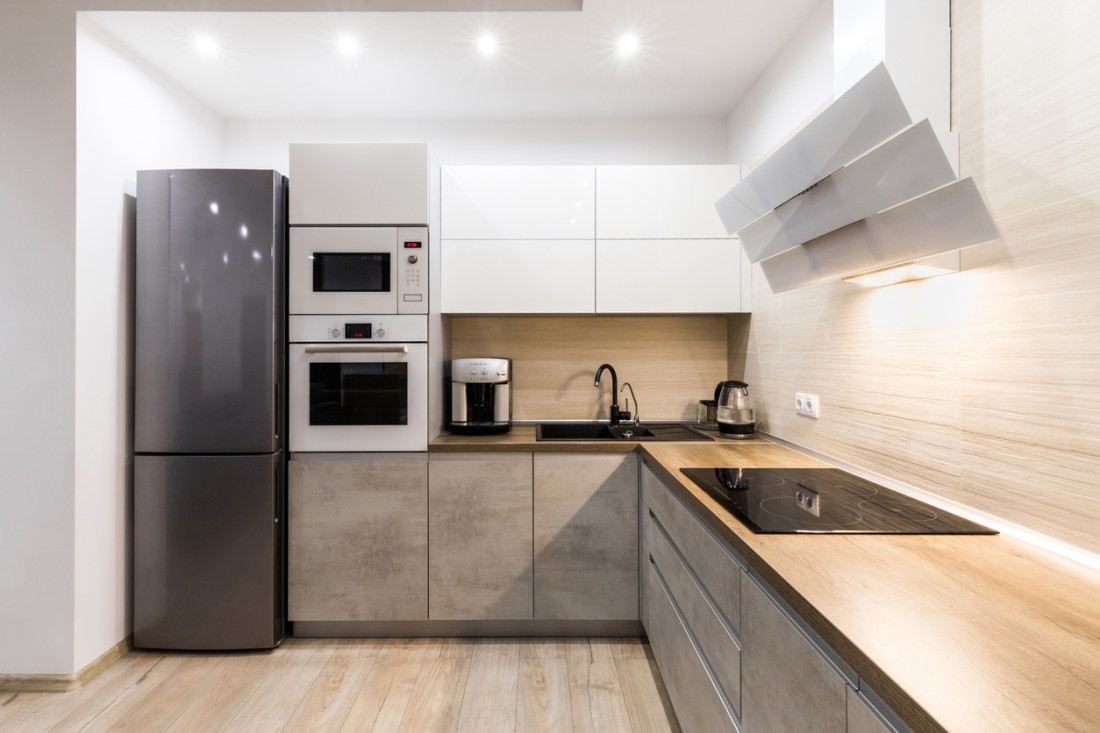 Your kitchen is a room for inspiration, creativity, and comfort. However, if you have a smaller kitchen, opening the space up and escaping the clutter can feel impossible. Making food is a joy in life, and just because your kitchen is small, it doesn't mean you have to feel cramped while cooking.
This blog will cover the most effective tips for saving space while remodeling your tiny kitchen. There are ways to open up the room without sacrificing all the cooking necessities. Read below to learn about how you can make your kitchen feel larger than it is with innovative design techniques.
For top-quality assistance with kitchen remodeling, call the experts at KDI Kitchen and Bath or fill out our online contact form and receive a free estimate!
Downsize & Prioritize
When remodeling, one of the first questions you should consider is, "what is absolutely essential to my kitchen?" To create space, downsizing is a must. You may have to sacrifice your giant instant pot or toaster oven to open the atmosphere in your kitchen. Prioritize what appliances you absolutely need to cook correctly and ditch the rest.
Choosing smaller appliances can free up even more space in the area. For example, a two-burner stove and a cabinet-width fridge can serve the same purpose without stealing unnecessary room. Shrinking the sink to one bowl instead of two will save space and encourage doing the dishes more often.
Use Innovative Storage Solutions
Go into your kitchen and look up! Is there a lot of wasted space on your walls that could be used to house appliances or as storage? To maximize space, we encourage using every nook and cranny; yes, even the awkward space between the fridge and the wall. Get creative about your kitchen storage by adding high shelves and using modern innovative storage solutions.
For example, using a roll-in cart instead of having an island can serve the same purpose without taking up the much-needed room. Corner drawers and roll-out pantries can utilize the awkward spaces that usually get neglected. Open shelving can downsize the space the cabinets take up and can be paired with pot racks, magnetic spice racks, and knife holders to store everything properly.
Plan Out Your Appliances
Appliances are notorious for taking up the most capacity in the kitchen. Luckily, there are creative ways to keep devices tucked away. Built-in appliances save space and open up the area. For example, microwaves can be built into cabinets instead of sitting on the countertop. This technique also makes the appliances a part of the design rather than adding on top of it.
Homeowners can store some appliances in cabinets. While remodeling, try to incorporate the appliances you need into the design of the kitchen. Any other appliances should be small enough to store and ditch anything you don't use often.
Consider Unique Kitchen Layouts
Planning out a kitchen layout beforehand can save time and room during the renovation process. Sticking to a simple design can create an open, uncluttered, and relaxing space. Here are three layouts you should consider for your tiny kitchen:
Gallery Kitchen Design: The Gallery Kitchen design was initially designed for kitchens in small spaces such as boats. This design includes two opposite countertops running the entire length of your kitchen. All appliances are on one side of the kitchen, while storage and countertop space are on the other. The benefits of this design include a structured system, appliance-free countertops, and ample storage space.
U-shape Design: A U-shape design aims to keep all appliances restricted to the back three corners of the kitchen. The front of the kitchen is used for countertop space and storage. Benefits of this design include easy access to appliances while cooking and an uncluttered front of the kitchen.
Breakfast Bar Design: This design involves knocking out a wall creating an open space above the counter with storage on the bottom of one side and stools/chairs on the other. This design allows for extra eating space and creates an opportunity for lighting above the breakfast bar.
Utilize Color & Light
Your kitchen may look small, but fortunately, you can trick the eyes into making the space appear much bigger than it is. Light neutral colors can open up a space making it feel light and airy. In contrast, darker colors cramp up a room and create the illusion of less space. Choose light beiges, greens, and whites in your color palette to create a more open atmosphere. Pro-tip: Painting cabinets and shelves the same color as the walls will give the illusion of more space.
Light is also an essential element in creating an airy atmosphere. Consider adding a window to the space if one doesn't exist. If knocking out walls isn't an option for you, add lighting everywhere you can in place of a window. A brighter room is a more spacious room.
Open-Up & Declutter
Finding the proper space for all your appliances, cutlery, plates, and miscellaneous items can be difficult when working in a small area. During remodeling, try to create a cohesive style not only with the decor but also with the kitchen items. Making your kitchen items a part of the decor creates a beautiful atmosphere with less clutter. This tactic will also encourage less spending on unnecessary cutlery and dishes.
Call KDI Kitchens for Assistance With Your Remodeling Process
Small kitchen remodeling isn't as stressful as it sounds; it can be a fun adventure in interior design. Play with different interior design styles and colors to decide what works best for you.
Contact the professionals at KDI Kitchens and Bath for expert remodeling assistance and products. We strive to provide excellent customer and reliable advice for any kitchen and bathroom endeavor. Call KDI Kitchens and Bath today to start working on the kitchen of your dreams.