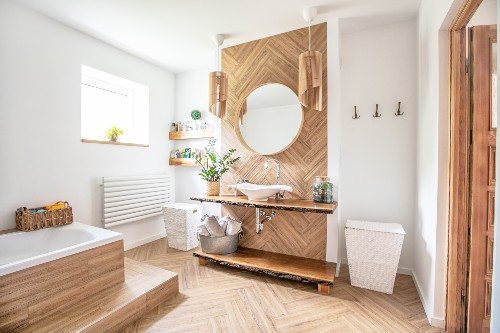 As we round off 2019, there are some trends in bathroom remodeling to note before the new year. Though best practices of construction will always remain true, styles can add a fresh take on how you make use of a space. It is typically a good idea to get a mix of direction from your instincts and your designer, but looking at trending styles can give you new ideas to play with and eventually make your own.
Bold, Black Statements
The pastels and even the whites are out as the stark black colors come into the scene. A bold, black pallet can accent a room or take it over depending on your style. A matte black can give a sleek and sophisticated look, or you can select an ebony hue for a spa-inspired look.
Wood Vanities
Many people have begun to use wood to bring a natural element into their bathroom concept. An Earth-based effect can arise from driftwood, barn wood, or stained wood to make a walk to the shower feel like a walk through the forest. If taking over the room is too overwhelming, accent it by adding flourishes of wood in your vanity or the shelving area.
Vanities in Front of a Window
If you have a larger window in the bathroom (or would like to add one), consider placing a mirror in front of it. The view creates a nice balance to the reflection. Also, the lighting is much better! Try suspending the mirror from the ceiling for an even greater effect.
Toilet Tech
The advancements in the world of technology have finally made their way to the toilet. Customization and automation options come into a house that optimizes accessories with technology. Some of the features of a tech-enhanced toilet include motion activation, hands-free opening, self-cleaning, heated seats, and more.
Light Up Your Bathroom with LEDs
The lighting in a space can make a big difference. Installing LED lights has caught on in bathrooms for a calm glow making those midnight trips less painful.
KDI Kitchens and Baths offers kitchen and bathroom design and construction, renovation, and remodeling. Check out our bathroom options or give us a call today at (734) 284-4600.