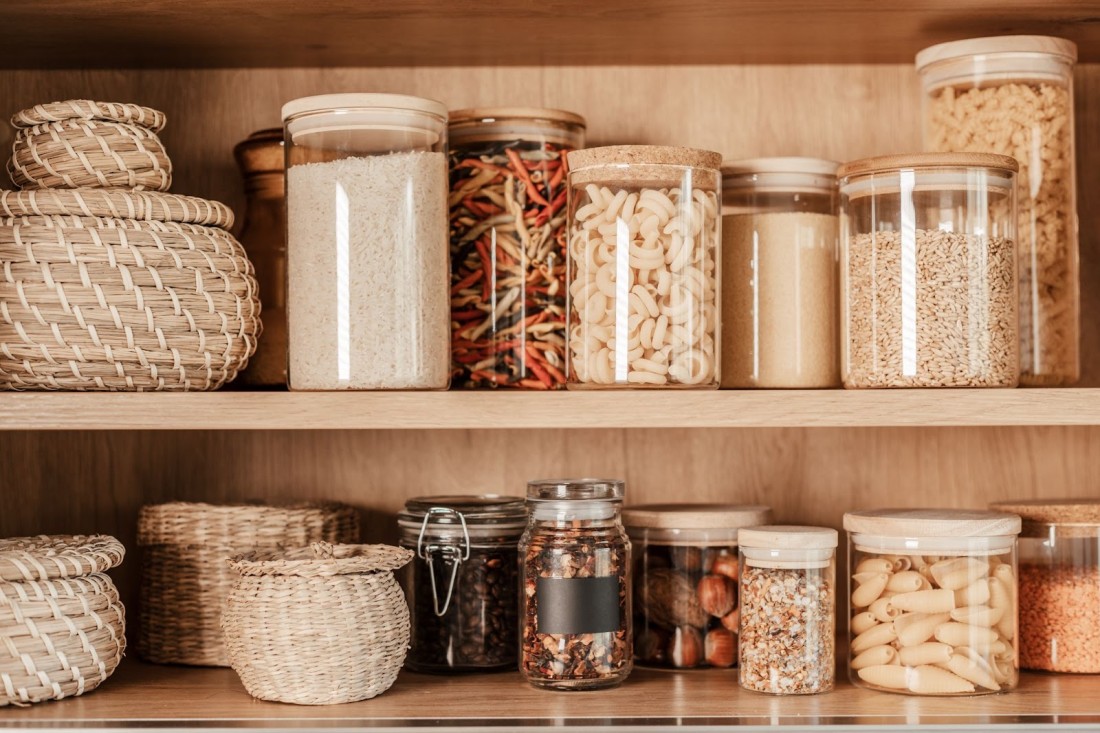 Kitchen pantries are extremely useful for storing snacks, cans, and other dry goods, but they can become cluttered black holes without proper maintenance. A well-organized pantry can make cooking and meal prep a breeze and save you money by preventing food waste. Utilizing a systematic approach to your pantry will ensure that all of your dry goods are accounted for and in their right place.
To help you out, we've compiled a list of pantry organization ideas to suit any pantry. By following our guide, you can take the guesswork out of the organization process and take your pantry to the next level!
Assess Pantry Space and Determine Storage Needs
Before you start organizing your pantry, assessing your space and determining your storage needs is important. Take a look at your current pantry and consider the following questions:

How much space do you have?
What items do you need to store in your pantry?
How often do you use these items?
Do you have any special storage needs, such as for bulk items or small appliances?
Once you have a clear idea of your storage needs, you can start thinking about what type of shelving and containers will work best for your space.

Create Pantry Sections
Instead of placing food items wherever there's free space, creating devoted sections to similar items will make finding dry goods 100% easier. You'll also know exactly where everything belongs during cleanup.
Here are some ideas for sections you may want to include in your pantry:
Canned goods
Produce
Snacks
Bread and pasta
Sauces and condiments
Oats, beans, rice, and other grains
Flour and baking ingredients
Designating where your sections are is also something to consider. For example, putting the items you use the most in plain sight will allow for easy and quick access. For items that your kids may need access to, you'll want to zone them on a lower shelf where they can reach the treat themselves.
Maximize Space With Creative Storage Techniques
Small pantries can make clutter feel unavoidable, but there are creative methods for making the most out of the space available. Here are some tips and tricks to help you get the most out of your pantry:
Use the back of the door: Install a hanging organizer on the back of your pantry door to store small items like spices and snacks.
Use rolling carts and slide-out drawers to increase space and accessibility.
Trying hanging storage techniques like installing a pegboard, attaching chip bags to hangers, and adding hooks.

Label Everything
One of the most important aspects of pantry organization is labeling your items. This not only helps you find what you need quickly, but it also helps prevent food waste by ensuring that you use items before they expire. Here are some tips for labeling and categorizing your pantry items:
Try using dry-erase or chalkboard labels so that you can erase and rewrite them multiple times.
Consider adding the expiration date to the label so you know what items to use first.
Label your pantry zones, so you know exactly where to look for items and where to return them after use.
Work With a Professional
If you're feeling overwhelmed by the prospect of pantry organization, consider working with an expert designer. A designer can help you assess your space, choose the right shelving and containers, and come up with a customized organization plan that works for you and your family. They can also help you choose the right materials and colors to match your kitchen, giving you that extra aesthetically pleasing look.
Expert Kitchen Organization with KDI Kitchens
Pantry organization may seem like a small detail, but it can make a big difference in your daily life. By assessing your space, choosing the right shelving and containers, labeling and categorizing your items, and maximizing your space, you can create a functional and beautiful pantry. And if you need help along the way, don't hesitate to reach out to an expert designer like KDI Kitchen & Bathrooms. You can have the pantry of your dreams with a little planning and organization.
The Kitchen You've Always Pictured With KDI Kitchen & Bathrooms
Ready to start your kitchen remodeling project? Contact KDI Kitchen & Bathrooms for a free consultation. We'll work with you to design the kitchen of your dreams, complete with a perfectly organized pantry.
Contact KDI Kitchens and Bath today to get started with your next remodeling project!