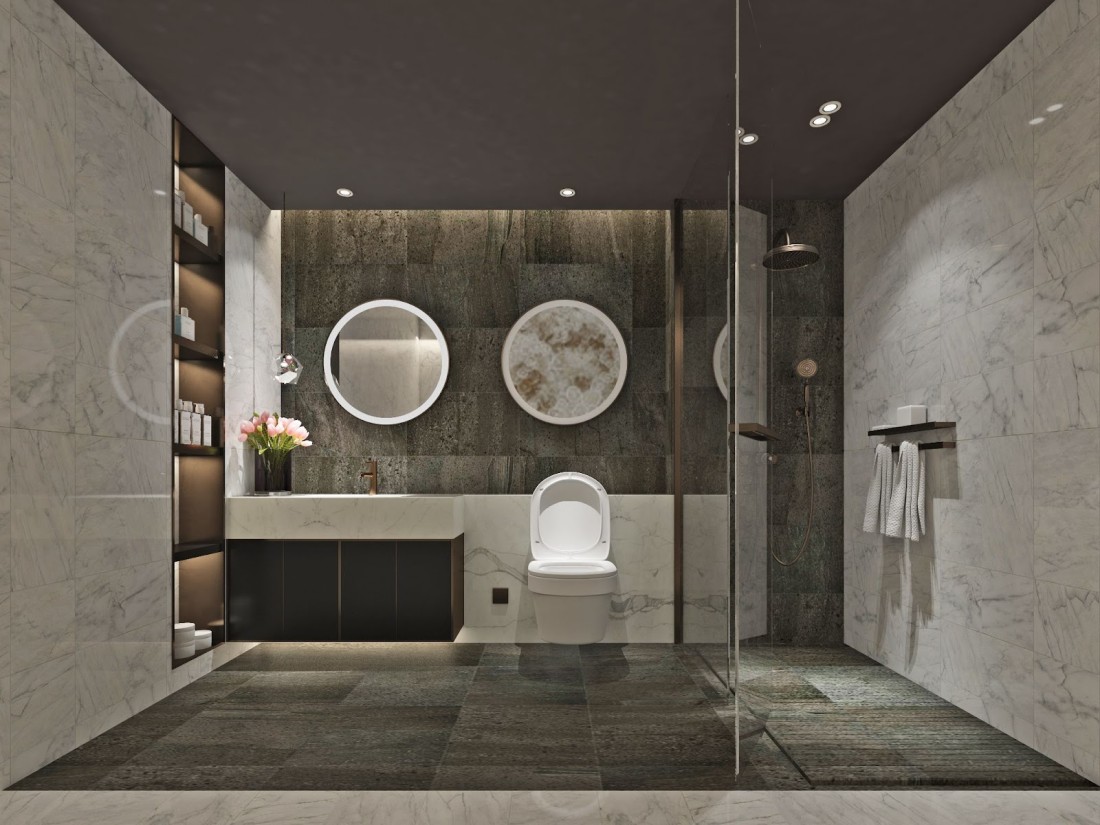 Bathrooms are a safe haven for privacy and relaxation, so it's no surprise that so many styles of them exist. One bathroom style growing in popularity is the wet room. As the name suggests, wet rooms are bathrooms that are designed to be wet, but how do they differ from bathrooms, and which is better?
In this blog, we'll do a deep dive into the pros and cons of each and how KDI Kitchen & Bath can help you make the right choice for your home.
The Difference Between Bathrooms & Wet Rooms
In wet rooms, the shower area has the same flooring as the rest of the room and no barrier between the two. This means there's no shower tray or enclosed shower space, and the water is free to flow to the rest of the bathroom. Essentially the entire bathroom serves as the shower space. Most wet rooms have a sloping floor that allows water to flow directly into the drain without pooling or flooding.

In contrast, traditional bathrooms have a shower, bath, or both separated from the room with different flooring. Bathrooms may have non-waterproof flooring, such as tile or hardwood. Bathrooms can also have a flat floor and no central drain outside the shower space.
Bathrooms and wet rooms are similar to one another, with the differences being the floor and the location of the showerhead.

The Pros of Having a Wet Room
There are benefits to installing a wet room or choosing a home with a wet room instead of opting for a traditional bathroom. These benefits are why so many modern homes decide to incorporate a wet room design. The pros of installing a wetr oom include the following:
Wet Rooms Provide Easy Cleaning
When the entire bathroom is waterproof, cleaning the space suddenly becomes much more manageable. There's no need to worry about cleaning a shower door or using different cleaning products to clean the other areas in the bathroom. Simply spray some bathroom cleaner and then use the showerhead to spray everything down.

Wet Rooms Save Space
Wet rooms are ideal for bathrooms with limited space. A showerhead can be installed anywhere; the whole room can serve as the shower area. Some wet rooms have showerheads installed right next to the toilet, which can now double as in-shower seating. Large and small bathrooms can both utilize the space-saving benefits of a wet room.

Wet Rooms Are Accessible
Traditional bathrooms will always need some barrier between the floor and the shower area. Wet rooms remove the need for shower trays and tall bathtub walls. This aspect is especially beneficial to members of the elderly and disabled communities. Opting for a wet room will prevent tripping over the shower tray.
The Cons of Wet Rooms
Every design choice has consequences, including a wet room-style bathroom. Homeowners will want to consider the following cons before choosing to install a wet room:
Wet Rooms May Not Have a Bathtub
There are wet room designs that have a bathtub and a separately exposed showerhead, but it's not guaranteed. Traditional American bathrooms will pretty much always include a bathtub, which may be essential for some. Homes with families may require a bathtub, or perhaps it's just a favorite way to relax. Either way, it may be best to opt for a traditional bathroom if not having a bathtub is a deal-breaker.

Wet Rooms Create Increased Moisture
Depending on the showerhead's placement, everything in the bathroom may get wet, including towels and toilet paper. Without a clear barrier against water, the entire floor will also become wet. A lack of shower enclosure will create Increased moisture in the whole room.
A wet room may not be viable for homes with only one bathroom. No one wants to walk on a damp floor every time you need to use the restroom and wash your hands, especially if you host many guests.

Wet Rooms Can Be Expensive to Install
A wet room must be waterproofed from floor to ceiling to prevent water damage and bacteria growth. A wet room will also require proper ventilation to prevent mildew and will need extra storage for towels, cosmetics, and toiletries. Only certain waterproof materials can be used when installing a wetroom, limiting your design options. These additional measures may prove to be more expensive than opting for a traditional bathroom.
Bathrooms vs. Wet Rooms: Which is Right For You?
Choosing between a wet room and a traditional bathroom can be a tough call. Luckily wet rooms and bathrooms are completely customizable so that homeowners can experience the best of both worlds. Having a single shower screen or curtain to separate your shower area from the rest of the room can mitigate some of the cons of installing a wet room. Rain showerheads might also be a good option because they spray straight down and not out, reducing the spread of water.
Traditional bathrooms are still the norm, and not everyone prefers a wet room, so in the end, it all comes down to your preferences and non-negotiables. At KDI, we can help any vision for your bathroom remodel come to life!

Next-Level Home Remodeling Services With KDI Kitchens
Any remodeling project is an exciting opportunity, and KDI Kitchen and Bath is here to help with all your remodeling needs, services, and products. Experimenting with new styles can be a fun adventure, but it doesn't come without challenges. We always strive to offer impeccable customer service and consulting for any remodeling project. We can support you in creating the interior design you've always imagined.
Contact KDI Kitchens and Bath today to get started with your next remodeling project!