Originally posted on 10/09/2017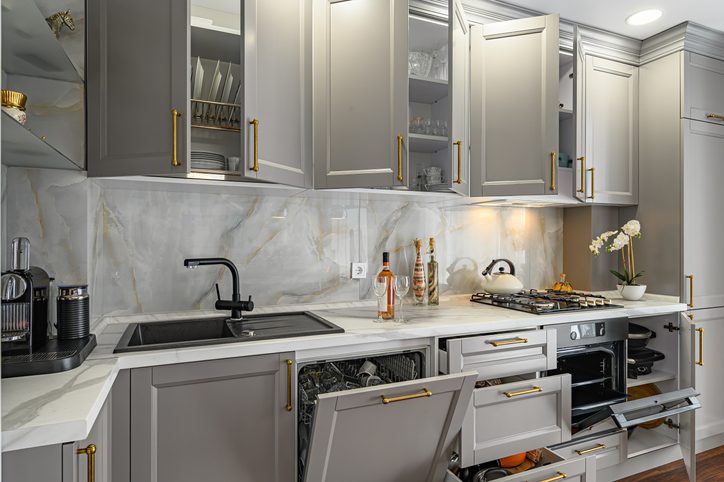 When it comes to redesigning a room that gets so much use every day, things can go downhill fast. You have to consider so many things, such as the color scheme, layout, and ensuring that the cabinetry and countertops complement each other.
While it is fun to mix and match pieces, keeping your cabinets and countertops simple makes it easy to achieve a good kitchen look without going crazy. Here are a few tips on how to choose cabinets that match your countertops.
Figure out the Color Palette
A good way to get started is to decide on the color palette. A color chart will let you know which colors complement one another. Remember to choose two dominant yet complementary colors and one accent color to tie the three together. White cabinets have always matched well with dark countertops with light veins.
Light-on-Dark
The mix of light countertops and dark cabinetry brings everything together. For instance, black cabinetry would add a nice contrast in a kitchen with white or cream countertops with subtle grey veining. This is a particularly good idea if your kitchen has lots of natural light.
White-on-White
If you are going for an ultra-modern design, all the white all the time isn't a bad way to go. However, you have to be extra careful with this kind of design. The countertop should have a darker shade of white and add just enough detail so that the kitchen remains simple without being boring. On the other hand, the cabinets should be pure white to give a subtle contrast.
Dark-on-Dark
It's easy to create a kitchen with a brilliant mix of dark colors. A dark quartz countertop with light-colored veining will go well with black cabinets. Again, you want to make sure that the colors compliment each other and at the same time, create a contrast that draws the eye.
Matching your kitchen cabinetry with your kitchen countertops can give your room a more cohesive feeling. However, finding the right match can be tough. Lean on the experience of the kitchen cabinetry experts at KDI Kitchen and Bath. If you're interested in kitchen countertop installation for your kitchen, contact the granite fabricators at KDI Kitchens today!