Originally posted on 04/23/2020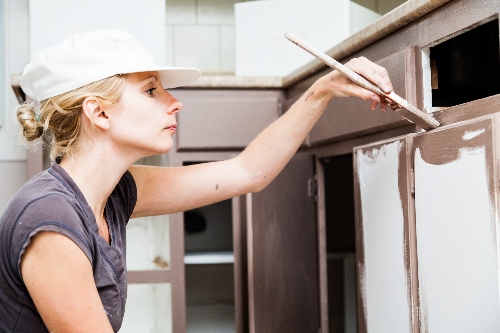 Kitchens are an important, functional part of your home. From the appliances to the countertops, the parts that make this room whole are not cheap. A complete kitchen renovation may be out of the question right now with the COVID-19 pandemic causing many people's budgets to be uncertain.
In the meantime, you could freshen up the look of your kitchen and home by painting your kitchen cabinets. The following steps will help you get everything ready for your DIY paint job.
1. Get a Backup Kitchen Ready
When you go into kitchen cabinet painting mode, your kitchen will be out of order. So make sure you and your family will still get your cooking needs met. In another room, set up a small kitchen area. In this area, make sure to have a hot plate, a hot water kettle, a toaster oven, and a cooler.
2. Clean Up Your Cabinets
Get a degreaser that won't do any damage (we recommend Spray Nine). Spray the degreaser onto a rag and wipe down the cabinet surfaces to get rid of any oil, grease, or other particulates. This degreasing step will also help the primer stick to the cabinets.
Make sure to get every surface of your cabinets - that means the front and back as well as each edge.
3. Sand off the Rough Edges
Remove the finish from your cabinets by sanding them down. We recommend a palm sander. Consider using 100-grit sandpaper. Get the smaller areas by hand-sanding down the smaller, detailed parts. Your sanding job is done when you can't see a sheen anymore. Next, use a dry paintbrush or a rag to wipe off the dust. Finally, use a tack cloth to give a last wipe down.
4. Time to Prime
Now is the time to add the priming layer. A wide-angled sash brush from two to three inches is right to add the primer to your cabinet doors. Start with the seams where parts meet. Move onto the face of the door and then the edges.
5. ...And Get to Painting!
Once you have taken all the steps above, you are ready to get to painting! A fresh coat of paint on your kitchen cabinets can help bring new character into your kitchen. Professional contractors and painters can make sure you get the quality look you want without the hassle of setting up, painting, and getting rid of materials.
Get the Kitchen You've Always Wanted with Home Renovation Experts
There you have it. Following the above guide will set your kitchen up to have the most functional cabinets possible. When you are ready for new cabinets or a larger renovation in your kitchen, consider KDI Kitchen & Baths. We are here to help you get the most out of your home.