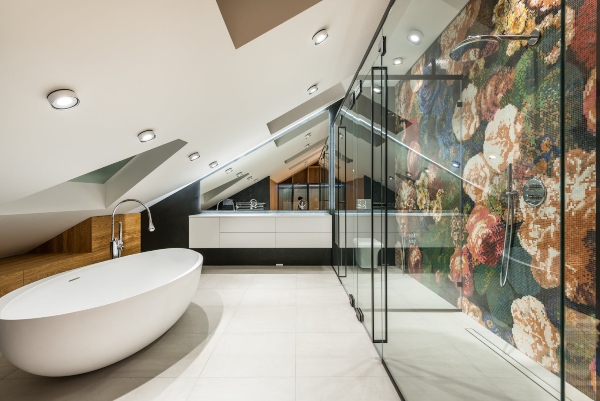 The shower is the place where we relax at the end of a stressful day at work, get ready in the morning, pamper our skin, and enjoy the warmth after a frosty walk. But, using it every day, it is only normal that your shower will start to show signs of wear and tear. And yet, since a bathroom remodel is the second most expensive renovation project, homeowners update their showers every 15-20 years.
Here at KDI Kitchens and Baths, we know how important a shower can be, and we believe that knowing what to expect from this project is the first step to getting it right. Let's start by looking at the costs involved in a shower remodeling or renovation project.
How Much Does a Shower Remodel Cost?
No two shower remodeling projects will have the same cost. There will be variances according to the bathroom's specifics, design requirements, and homeowner's preferences. However, looking at the national average, it is possible to get a clear idea of what to expect.
Generally, the average cost of a shower remodel is between $2,300 and $8,600, but most homeowners spend around $5,400. Of course, there is no limit to how much you can spend when investing in a custom shower design! If you are redesigning your whole bathroom, you can expect the cost of the shower to account for 5-25% of the total cost.
Type of Shower Remodels and Their Cost
When budgeting for shower remodels, several factors can increase the project's cost. Here is an overview of what to expect - but don't forget that partnering with an expert designer such as KDI can offer you far more precise indications on how much you will be spending.
Your chosen shower size and type - while you can install a prefab, low-budget shower for $200, the project's cost can be far higher (30-40% above average) for luxury and walk-in wet rooms.
Deep remodel vs. quick refresh - tiling and plumbing works will require a far higher budget. Instead, for a quick cosmetic fix, you won't need to spend over $200.
Age of the house and existing materials - if there is material to be demolished and disposed of, the cost can increase by around $1,000 to $2,300. Additionally, redesigning an old house's plumbing and sewage lines can be expensive.
Costs Involved With a Shower Remodel
Most homeowners know that a shower remodel will be expensive, but just a few approach this project with the right expectations of what they are about to spend. Aside from the shower type you have opted for, there are some added (and significant) costs you should consider:
Fees of an interior designer for custom designs (can range from $50 to $200 per hour)
Plumber and plumbing works
Installation contractor
Demolition fees
Tiling and doors (cost varies depending on quality)
Lighting and fixtures
Reduce Your Shower Remodel Cost and Maximise Your ROI
While shower remodels can be costly, they are deemed as one of the renovation projects with the highest ROI. Indeed, minor bathroom remodels can yield an impressive 102% in ROI and major bathroom renovations yield over 93%.
So, whether you have opted for a quick cosmetic fix or you are thinking of entirely rebuilding your shower, you can be sure that your project will pay off. Just make sure that, for your new shower, you are opting for an accessible design, timeless style, and highly durable materials.
Partner with Experienced Bathroom Contractors for Your Shower Remodel or Renovation
A shower remodel can end up bringing updates to your bathroom that will make your space more comfortable, more efficient, and more useful for you and your family. Planning is an essential part of all renovation and remodeling projects. Working with experienced bathroom contractors will help you make a more stable plan. Let the expertise of our professionals help guide you through the shower remodeling process so your family can enjoy your new bathroom. Give our team a call today.