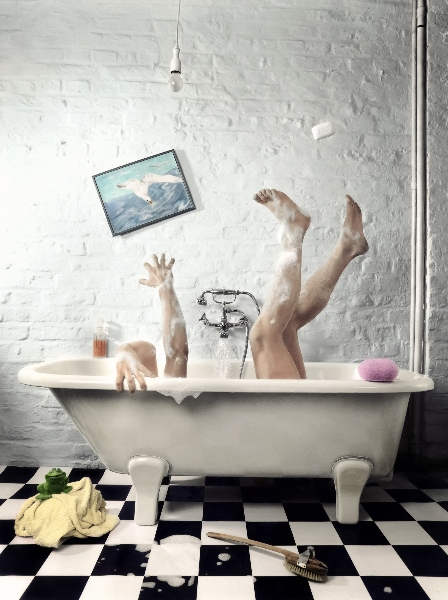 Staying healthy and clean is important, but make sure you stay safe at the same time.
People say "watch your step" on stairs or when crossing the street, but not usually in the bathroom. However, slips in the bathroom are a danger that injuries thousands of US citizens every year. According to a study from the Center for Disease Control (CDC), 81 percent of injuries in the bathroom involved falls. Most of these slip injuries in the bathroom happen in the bath or shower. What is worse, these slip and fall injuries become more likely, and more dangerous for older people.
Falls in the bathroom tub or shower are dangerous and common. Let's go through some of the steps you can take to prevent these slips in your home.
1. Install Grab Bars Beside Your Tub
These are first for a reason - grab bars are essential for elderly independent living. Standing up from the tub is a laborious task. A grab bar makes this process much easier. Plus, if your loved one starts to fall, they can grab the bar on the way down, slowing or preventing their fall.
2. Install Non-Slip Surfaces on the Tub or Shower Floor
Slips go with falls. Slippery surfaces lead to bathroom injuries. The less slippery your surfaces are, the fewer falls you will have in there. Install non-slip surfaces on your tub or shower floor as well as the tile around the outside of your tub or shower. Loose rugs may feel nice on your toes, but get rid of them to lower the chance for injuries.
3. Get Rid of the Clutter
Get rid of objects that are in the way. Any extra objects in the bathroom become trip hazards. Removing these objects will not only make your bathroom more functional, it will become safer. Keep your pathways clear to keep everyone's feet on the ground.
4. Make What You Need Accessible
Going with the theme of reducing waste and inefficiency, make things easier to reach. There are many commonly used things in the bathroom that you or your loved will use daily. You don't want to stop what you are doing to grab a toothbrush, soap, shampoo, towel, razor, or other items you need. If you or your loved one needs to get out of the shower or tub to grab these items, your risk of falling increases greatly.
5. Consider a Walk-In Bathtub
A bathtub is a difficult thing to use. Getting in and out can become more and more difficult as you or your loved one gets older. Even with assistance, a standard bathtub is still a serious concern for falls. Consider having a walk-in bathtub installed in your home. A walk-in tub will be much more comfortable and a safer option for elderly people or those with injuries.
Partner with Bathroom Experts for Your Walk-In Bathtub
Staying safe in your house and in your bathroom is what a home should be all about. Follow the steps above to keep you or your loved ones safer in the bathroom. If a walk-in bathtub could help you be safer in the bathroom, consider having KDI Kitchen and Bath install one suited to your needs. Our considerate and helpful staff will talk you through what a walk-in bathtub is and how it could help you.