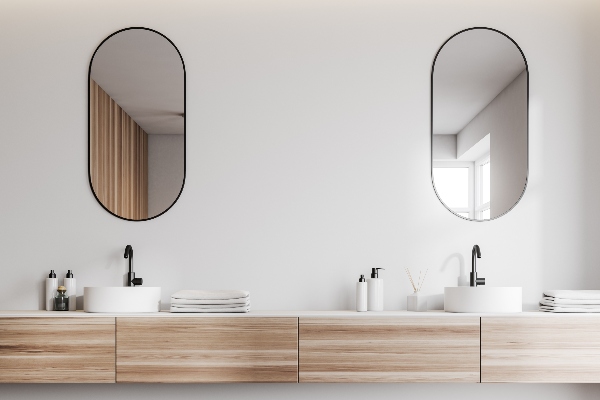 This year brought with it the chance for a lot of changes around people's homes.
You may be like one of the many people who have been spending more time at home. Whether you needed to switch to remote work or had to take time away from your career, most everybody has been inside their home more during off-hours. With all that time around your home, maybe you have noticed a few areas that could use some renovating.
A great place to start is your bathroom. Though you usually aren't hanging out there (at least we hope not!), your bathroom can be both functional and fit the style of your home. Keep reading to learn our top bathroom design trends for 2021.
Choose Class with Matte Black
A matte black color for your home's fixtures is a timeless, classy look. Black goes with everything, making this choice a solid pairing with just about everything. Consider a pairing with neutral colors such as white or brown. Consider some of the following places for using matte black in your bathroom:
Tiles
Toilet seats
Mirror frames
Door and window frames
Curtains
Glass Shower Doors with No Frame
Everyone wants a clean, neat look in their bathroom. One way to do this is through frameless showers. Frameless shower doors also work well in small bathrooms. This stylistic choice can help open up the room. Frameless doors also provide a sense of luxury with such a slight change.
Add an Earthy Sense with Wooden Accents
Many people like to tap into the natural side of life. People can feel disconnected from nature in a modern home ecosystem. Wood elements can help you connect with nature. Adding wood can be in small ways such as dispensers or larger areas such as window trim and frames or cabinetry.
Double Vanity Mirrors
Do you like waiting? We didn't think so. Add some intimacy and efficiency to your morning routine with a double vanity. Choosing a double vanity in your bathroom or master bedroom suite provides you and your partner a chance to take care of your needs without waiting for the other person to be out.
Get a Bathroom Designed to Your Needs and Wants
These trends can add some ideas to your overall bathroom design. Of course, make sure to consider your needs and the style of your home so your bathroom will fit the overall feel of your home. KDI Kitchen and Baths provides creative designs and professional renovations that will bring your home to where you want it to be. Give us a call today to chat through your needs.