Originally posted on 04/12/2017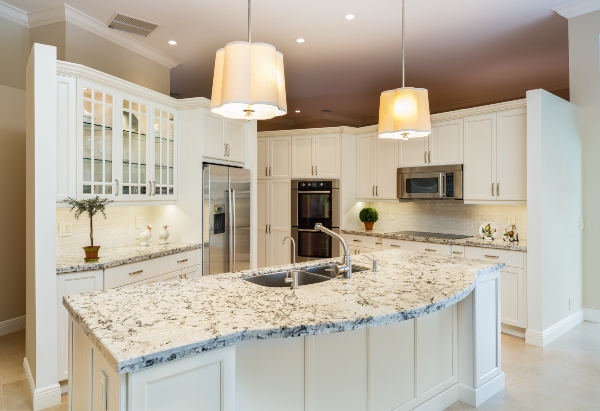 Granite is not only a popular design choice for your kitchen counters, it is a very versatile and long-lasting product. Granite is excavated from the ground in slabs and every piece is unique. The stone, once sealed, is very durable and stain-resistant. Granite is quite simple to maintain and does not require a lot of upkeep. Stone countertops give kitchens a finished look and pull the design of the space together, often melding several design elements that are in use throughout the room. Granite is also very functional as a cooking prep surface, and because it is non-porous it is also a sanitary one.
1. Durability
Granite countertops are tough! You do not need to worry about damaging them, even using them as a surface to put hot pots and pans will not cause the countertops harm. You can also cut items directly on your counters, but be careful as it may make your knives dull.
2. Non-Porous
The non-porous nature of granite countertops keeps them sanitary, and you will not need to worry about food particles being absorbed into the surface or the growth of bacteria. This also makes granite easy to keep clean.
3. Stain-Resistant
Once your counters have been sealed they will be stain-resistant for about two years, at which time they will need to be treated again. The non-porous nature of granite also helps to reduce staining the countertops.
4. Color that Will Not Fade
The non-fading color is an important feature of granite countertops, especially as a lot of their appeal lies in the unique patterns and character of each slab. Granite also has a very long usable life due to its resiliency and the fact that the color will not fade.
5. Increase Your Home's Value
Many people looking to buy an existing home demand updated kitchens and this requirement often includes granite countertops. It is likely that this feature could increase the resale value of your home.
Work with Experienced Kitchen Design and Construction Experts
The kitchen is a great place in your home to update. As a central hub of your home, your kitchen will see a lot of activity. With the right countertops from the right company, your kitchen will be able to keep up with the demands your family and friends make. If you're interested in granite countertops, contact the team at KDI Kitchens today for all your kitchen and bathroom design needs.