Originally posted on 11/10/2017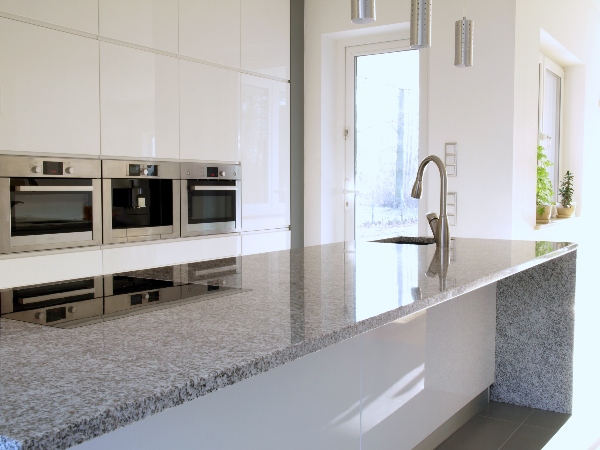 The kitchen is often referred to the heart of the home. In addition to this truism, it is also one of the more important rooms when resale is considered. An updated kitchen is key in this market, and granite is often the choice of discerning homeowners.
Countertops are a pivotal part of any kitchen design plan, and granite remains one of the most practical and aesthetically pleasing options. The durability of the material makes it nearly indestructible and a wise choice for a busy kitchen. The unique coloring of the stone gives every kitchen a distinctive use, and with the multitude of colors available, granite is a good fit for any design scheme.
1. Granite is a Cost-Effective Kitchen Update
Updating a kitchen can be done on a budget, but it remains a pricey endeavor. The use of granite for countertops and backsplashes is one way to keep costs in line, as this stone remains an affordable option.
2. Granite has Beautiful Coloring
Due to its natural formation, every slab is different, and depending on the crystals contained within the granite, the color and patterns can take on a life of their own. Pink, orange, black, white, and grey are the most abundant colors in the granite and the various crystals contained within the stone create beautiful patterns that make every piece special.
3. Granite is Durable
Another boon of granite countertops, especially in the kitchen of any amateur chef, is their near indestructibility. It is an attractive surface that also allows cooks to cook without any worry about minor mishaps damaging their countertops. Chopping on the counter will not damage it, nor will dropping heavy pots or pans onto its surface.
Work with the Granite Kitchen Countertop Experts at KDI Kitchen and Bath
Modern kitchens are designed with both form and function in mind, and granite is one material that meets both demands very well. If you are considering a kitchen overhaul and are considering granite, rest assured that it is one of the best materials that you can choose for the job!
Interested in granite countertops? Contact the experts at KDI Kitchens today. From custom cabinets to kitchen and bathroom remodeling/renovation–we can help!