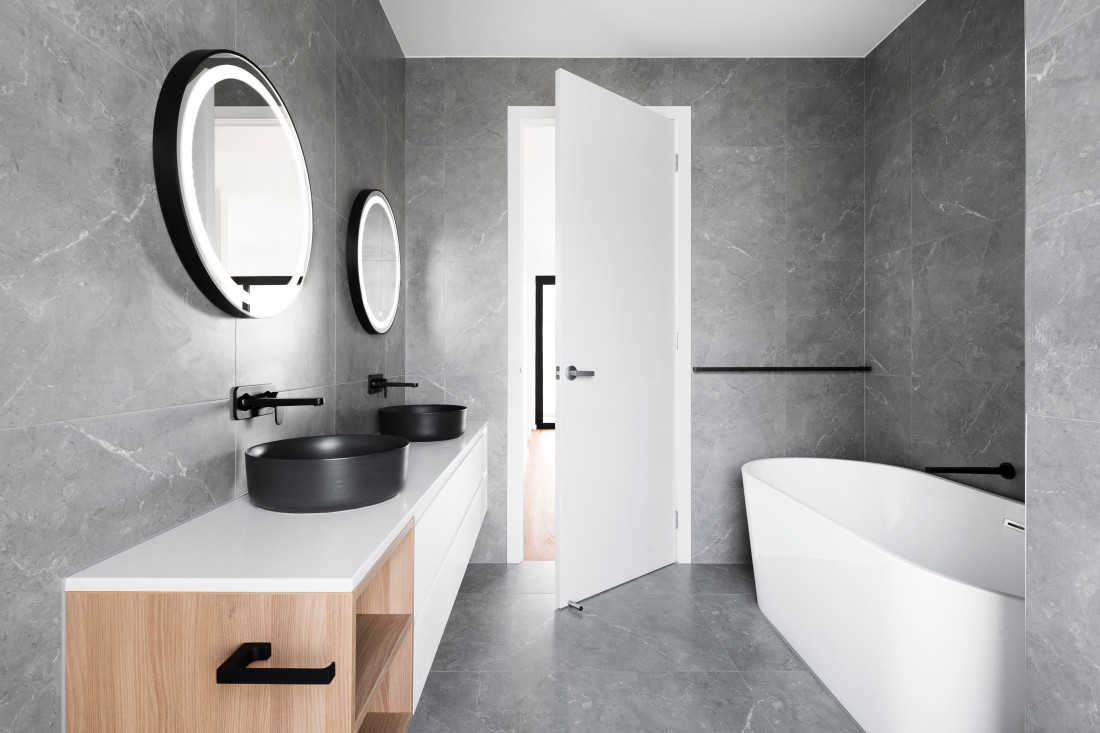 The bathroom should be a place of peace—where you can unwind from a long day in the bath or begin your morning with your beauty routine. Unfortunately, the bathroom can easily become one of the dirtiest places in any home. If you don't tend to it often enough, bacteria, limescale, and mold can easily become a huge problem. This is why it's so important to maintain your bathroom with proper cleaning and sanitation.
If you let things get out of hand, mold and dampness can easily ruin your decor, potentially cause health problems for your family, and eventually cause you to spend thousands of dollars on a bathroom remodel. Thankfully, bathroom remodeling from KDI Kitchens and Baths is an affordable option in the metro Detroit area.
Let's take a look at how you can ensure your bathroom stays clean, even with little ones running around, and how KDI Kitchens can help turn your bathroom into the oasis you've been dreaming of.
Bathroom Cleanliness Tips & Tricks
Whether you have little ones running rampant throughout your home or you work a busy and demanding job, finding the time to keep your bathroom clean can be a challenge. From sticky fingerprints on the mirror and traces of dirt and grime from shoes and clothes to makeup buildup and water stains, bathroom cleanup is time consuming work. But, it doesn't have to be. KDI Kitchens and Baths has put together a few tips and tricks to help you keep your bathroom in tip-top shape.
Frequently Wipe Your Surfaces
The bathroom is the perfect environment for bacteria to spread. Hot baths and showers make for a warm and damp environment (where bacteria thrives), so it's important to wipe down any surfaces you're using as frequently as possible. Your sink, your toilet seat, your bathtub—giving it a good wipe-down every few days can keep the maintenance relatively low. Just because you can't see the bacteria, doesn't mean it isn't there.
Scrubbing Duties
Dirt and grime can easily build up in your bathroom tiles, so pay close attention to them. While you might not notice a gradual build-up of dirt, giving your tiles a good scrub down a few times per month can reveal buildup that causes your tiles to turn a dingy color. By taking the time to clean not only the tiles themselves but the grout between, you can fend off the dirt and maintain the tiles—leaving them looking like new.
Clean Your Toilet
Let's be honest, the toilet sees the most action than any other appliance in the house—requiring more attention than you may think. Bacteria is constantly swimming in a toilet bowl, festering on the handle, and hanging out on the seat. This is why it's important when cleaning your toilet, that you clean the entire surface area, not just inside the bowl.
Even flushing your toilet with the seat open can be problematic. When you flush with the toilet seat open, all the bacteria that was already lingering in the toilet, along with the newly displaced bacteria from fluids, rise up and pollute the air inside your home. By cleaning your toilet regularly and taking the time to understand how bacteria travels, you'll be able to help minimize bacteria contamination.
Don't Forget Your Sink
There are more products that go down your sink then you may think. From toothpaste and soap to clumps of hair and tiny accessories, there's a lot that can slip through the drain or cause clutter atop your bathroom counter. To avoid an overcrowded countertop and potential sink clogging, try to use small containers for items that don't have a place among the drawers.
Additionally, bar soap can easily create a grimy surface when left directly on the counter. Instead, either choose a decorative bowl or plate for the soap to sit on or opt for an easier-to-use liquid soap that makes for a much more hygienic area.
Forget the Cleaning, Let's Remodel
If no amount of scrubbing gives your outdated bathroom that fresh, clean feeling, then a remodel may be in your future. At KDI, we'll help you explore new trends in bathroom concepts, use the latest design tools, and provide tips to help you make informed decisions about your new bathroom. Our professionals can install new fixtures, flooring, cabinetry, and countertops. From design to installation, KDI is your one stop shop for home improvement.
Give us a call today at (734) 284-4600 to learn more about our affordable bathroom design service. You'll get the best pricing and service in metro Detroit. Are you ready to give KDI a try?