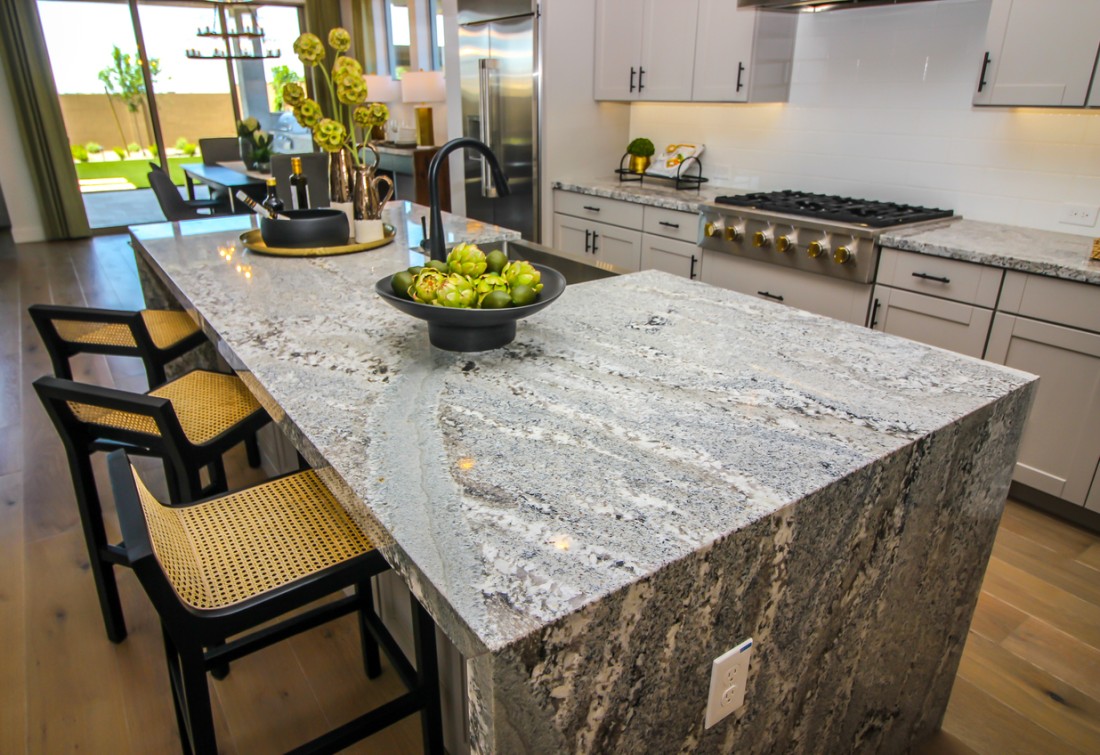 Your kitchen is the heart of the home—your family and friends gather here and your pets beg at the counter for leftovers to fall. When it comes to the layout and design of your kitchen, there are a number of factors to consider, but most importantly, the kitchen should be functional. Whether you recently purchased a home with a kitchen that's not quite up to your standards or you've been saving for a complete kitchen makeover, KDI Kitchens is here to help.
At KDI Kitchens, we ensure our clients understand the importance of details—more specifically, the countertops. It's important to make sure the material you select is durable, easy to clean, cost effective, and compliments your home aesthetic. From entire kitchen remodels to simple countertop replacements, our guide to kitchen counter materials will help you make a quick and easy decision for the whole family to enjoy.
Is it Time to Replace My Kitchen Countertops?
Before you rush out and buy new kitchen countertops, you should take an inventory of the current condition. Though kitchen counter materials are built to last, time and overuse can take its toll on any surface. When your counters start to look worn or damaged, it may be time for a replacement. Even the most durable materials will start to show signs of wear and tear eventually—from hot pans being placed directly on them to accidental spills and stains.
Do your kitchen counters still look like new? There's nothing wrong with outgrowing the material you once loved and wanting a fresh start. Give your kitchen a brand new look and feel with new countertops and perhaps an entire renovation. New countertops can update your kitchen, bringing it into the modern world and offering a great improvement on outdated styles. Just because there may be nothing wrong with your kitchen counters, doesn't mean you don't deserve the updated kitchen you've been longing for.
Which Materials Should You Consider for Your Kitchen Countertops?
If you're in the market for new kitchen countertops, there are a plethora of materials to choose from. Granite, marble, and laminate are just a few that we offer at KDI Kitchens. We provide an option for every budget and taste so you can easily find an option you love. Looking for something a bit more custom and unique? Not to worry. We work with some of the best in the business and can help you create a custom countertop your guests will be raving about.
Granite
Granite is a natural stone that offers a beautiful choice for people looking for a durable option. The natural stone comes directly from stone quarries and is cut into thin slabs, polished, and fabricated into the countertop you've been searching for. Granite offers a unique appearance as no two stones are the same—you'll have that one-of-a-kind look without even trying. Granite countertops do require a bit more maintenance, needing to be sealed each year to protect the materials, but they offer high strength and durability, as well as excellent heat and scratch resistance.
Marble
When you think of marble, you think of class and elegance. For some people, marble is the ultimate choice for kitchen countertops. This natural stone might be on the more expensive side, but it's worth it for the stunning look it can give your kitchen. Due to the many variations of marble based on the minerals that give it color and veining, it's possible to have a completely custom looking color and design.
Marble is a naturally cool stone, making it ideal for bakers or chocolatiers who find themselves placing hot items directly on the counter's surface. Additionally, marble is incredibly durable and offers varying finishes—honed/matte, polished, leather. Depending on the finish you choose for your marble countertop, you'll find there are benefits to each.
Quartz
Quartz countertops can give you the look of natural stone, but it's engineered from ground quartz, resins, and polymers. This makes it an affordable and sustainable choice that offers a broad range of styles—you can find quartz resembling materials such as porcelain, granite, marble, and concrete. With quartz, you can achieve the kitchen oasis you've been searching for without having to break the bank.
Acrylic
Acrylic countertops are strong, resilient, and versatile. It is non-porous, meaning it's easier to clean and avoid stains, and can be put together as seamless countertops too. Acrylic countertops closely resemble natural stone, but at a lower cost and without the maintenance that other, pricier, countertops require.
Just like other countertop materials, acrylic offers various colors, designs, and sizes so you can still have the kitchen you've dreamed of without having to spend an obscene amount of money. Additionally, acrylic countertops are much easier to repair if you find scratches, burns, or holes.
Laminate
Laminate countertops are an excellent low-cost option available in different colors, textures, and patterns. Consisting of plastic fused with particleboard, laminate countertops can imitate materials like wood and marble.
Because laminate is made up of particleboard and plastic, it is not a very durable material—they can crack easily and water can warp and bubble the countertops. Though laminate countertops do not offer the best durability in the market, they are the perfect option for DIYers, those on a tight budget, or rental properties that you want to elevate quickly.
Renovate Your Kitchen with KDI Kitchens
KDI Kitchens can help you to renovate your kitchen, complete with brand-new countertops. Offering custom installed kitchen countertops at a price you can afford, our expert team will help you to find the best counter to compliment your cabinets, flooring, and backsplash. After you choose the materials that suit your kitchen and budget best, we'll measure your space and schedule our crew to install it. You'll receive great kitchen design and installation from Michigan's most trusted residential remodeling company.

If you're ready to get started on your kitchen remodel with countertop selection, contact KDI Kitchens today to receive a quote.