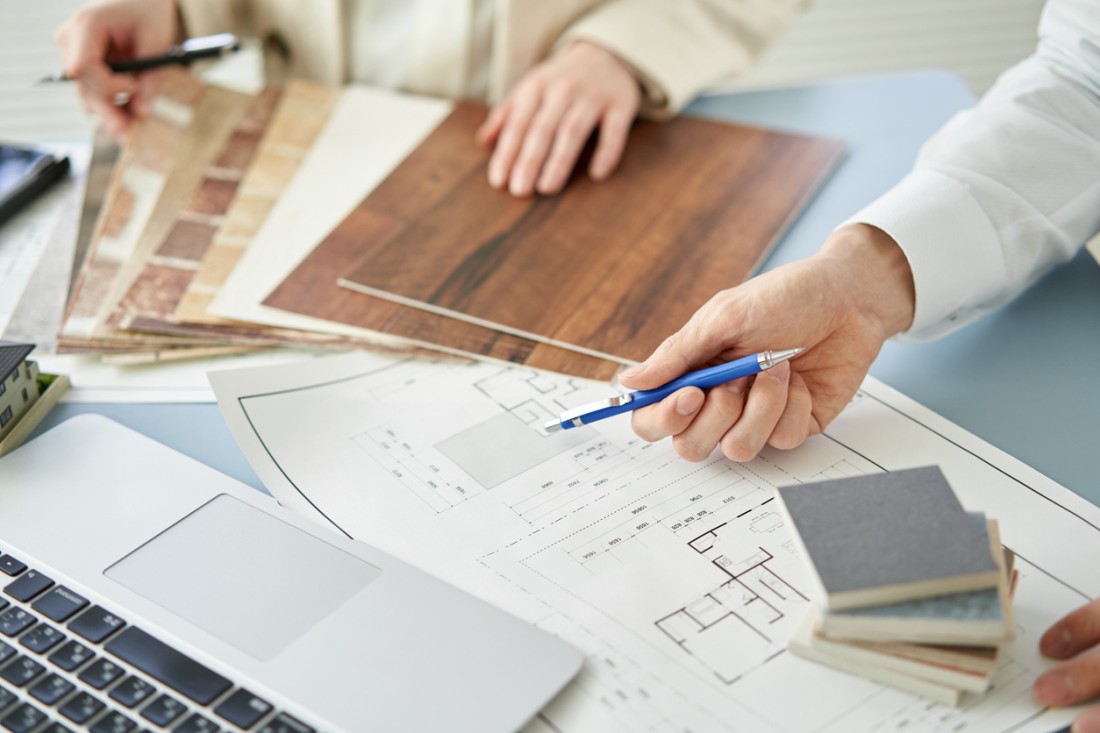 Kitchen remodels can be challenging and mentally exhausting, especially if you're debating between aesthetics and functionality. Instead of thinking inside the box, take a look outside of it. Unique home designs have once again become more popular and common. Think conversation pits, splashes of color, and intricate details you would normally only find in million dollar mansions.
Whether you are completing a kitchen remodel or bathroom renovation, it's time to ensure each room looks and feels unique. At KDI Kitchens, we know how to create the kitchen and bathroom of your dreams without breaking the bank. Take a look at some of the most trending innovative design techniques sure to make your kitchen or bathroom look straight out of a magazine.
Cabinets
Cabinets make up a majority of your wall space in either your kitchen or bathroom. From island storage to walls of beautiful built-ins, why not express your space with a pop of unexpected color? A bold choice being black, black kitchen cabinets will ensure that your design feels sleek, sophisticated, and modern. This cabinet choice could help accent other areas of the room and highlight lighter countertops.
Heavy dark cabinetry such as black may not be the right design option for you, but that doesn't mean you can't choose something else. Additional colors to choose from include:
Pale pink

Vibrant red or orange

Mint green

Deep green or blue
Vintage Accents
Another addition to help accentuate your style and colorful cabinets is vintage accessories. This can include anything from a farmhouse sink and vintage door knobs to retro signs and energizing bar stools or chandeliers. Make the old new again with your home. The right pieces of this effect can be found in second-hand stores as well as estate sales to ensure they are truly unique.
Intricate Backsplash
In the past, backsplashes in the kitchen have been designed to blend in with the rest of the room, providing practical benefits rather than having a real effect on the aesthetic. However, instead of opting for a dull backsplash, you could choose something that feels like a central piece of the room. For instance, you might want to consider a patterned or mosaic-style backsplash for your kitchen space. These can bring a lot more character to the area and quickly become a conversation piece.
Pops of Color
Pops of color can be added to the decor in your kitchen or through a bathroom remodeling project. Random pops of color will bring everything to life and brighten up a room design that is just a little too dull and plain. You could do this with the tiles on the bathroom walls or choose a bright color for a feature such as a floating basin. In the kitchen, you might want to think about choosing a bright color for your breakfast island or a smaller part of the design such as the stools.
Integrated Cutting Board
Another option for your kitchen remodel would be an integrated cutting board. This will add a different type of texture and variety to your countertop with a unique design feature. These can be styled to stand out from the surrounding surface beautifully while providing practical benefits at the same time. You can even opt for an entire cutting-board island.
Use Natural Materials
Natural materials provide an inherent quality and will help you achieve a biophilic design in your home. Popular choices include wood, real stone, and plants. Adding earthy elements will do wonders for the style of your space and help create a warm and inviting environment. Whether you choose to incorporate wooden beams across the ceiling or mix things up with an accent wall made entirely of barn doors, a pop of natural material can truly make a house feel like a home.
Transform Your Kitchen
If you are completing a kitchen renovation or bathroom remodel, keep your mind open to new possibilities and new trends. From captivating colors, vintage fittings, vivacious patterns, and unexpected details, your space can easily be transformed into a masterpiece. KDI kitchens are here to help make your dream space become a reality. We have years of experience in ensuring that our clients can design the ultimate space that matches their needs and delivers a stunning aesthetic. Get in touch with our team today to find out more.
KDI Kitchens: Affordable Kitchen Renovations in Metro Detroit
As a family-owned and operated renovation company, KDI Kitchens is here to cater to remodels and new home builds in South East Michigan. Our specialty trained personnel understand home design and are here to provide you with the best service and advice to turn your home into a work of art. If you're ready to get started and sit down with our designers to discuss your next project, contact us today.