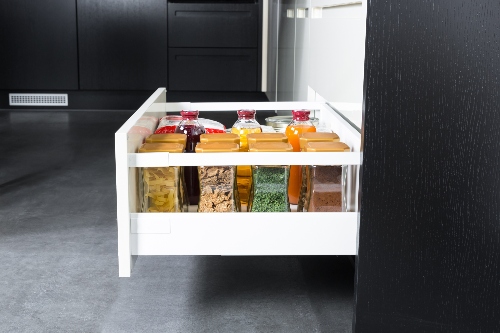 The more you use something, the more chances you have to lose time. Between cooking, cleaning, and maybe eating, your kitchen gets some serious use throughout the day and week. A well-organized kitchen will help save you time and frustration so you can get what you need quickly without wondering where it is. Keep your family's life easy (when you can) by helping them flow through your kitchen.
Keep reading to get KDI Kitchen and Bath's top tips for keeping your kitchen organized.
Organization Tip #1: Clean out Your Cabinets and Drawers
Let's start by going through and cleaning out the things you don't need. Starting with your cabinets and drawers, pull out everything in there. Separate items based on what you don't use, what you have duplicates of, and items that are broken. Group like items, then get rid of what you don't need, EVERYTHING you don't need. You can donate canned or dry goods, so they go to a good place.
Organization Tip #2: Make Groups for Similar Items
Now that you have fewer items, consolidate the groups. Sort your items based on dishes or use it will have, such as baking. For dishes, consider grouping by use - glasses vs. plates - or seasonality - winter/holiday dishes from the rest.
Organization Tip #3: See What's Going on with Clear Containers
Plasticware, tupperware, and glass containers will help you organize your cabinets and kitchen. Packets, mixes, and more can go in clear containers. Containers will help them from getting spread out to different places, so you know where to go for an item.
Organization Tip #4: Lazy Susan Solutions
Rotating trays or lazy susans can be great for space efficiency and organization. These trays can hold oils, spices, vitamins, or medications that don't fit in the bathroom or closets. Some even use trays in their refrigerator helping them rotate items in the back to the front. This refrigerator tray can help you use older food before it goes bad.
Organization Tip #5: Drawer Dividers to the Rescue
Bring order to your drawers with dividers. Silverware trays are great to quickly separate and later select cutlery - make sure to use that lesson with other drawers! Divide up your cooking utensils, junk drawer, cutting boards, or more.
Remodeling Services to Organize Your Kitchen for Ongoing Comfort
Having a special place for all your utensils, pots and pans, spices, food items, and more will save you time and help you cook more quickly. Organization comes down to your style - what works for your family is the right way. For larger kitchen remodeling projects, think of KDI Kitchen and Bath. Our design and installation crews can help you get the most out of your space so you and your family can live more comfortably and happily.